by KimLenox on January 16th, 2009
First off — don't forget to leave comment in order to be entered in this week's contest giveaway! We'll accept entries through Sunday at midnight.
And yes, "Yah!" "Woot!" and "Blululululu!" all count as comments, just so we can track you down if your name is drawn.
Oh, boy! What's the strangest thing I've come across during research? If you've read my book, NIGHT FALLS DARKLY, you'll know it took place during the Jack the Ripper murders in 1888 Victorian London. Because I'm a research junkie, I took a lot of care to weave my story around exact dates, events and people — including famous personages of the time, and several Jack the Ripper suspects.
I do the same thing in SO STILL THE NIGHT, except this time, my story takes place during the time of the Thames Torso Murders, which in actuality, took place before, during and after the Jack the Ripper killings. For some reason, these murders never drew as much interest as Jack's murders, even though they were just as disturbing. I know. Shiver!
I found out while writing NIGHT FALLS DARKLY, I had to draw the line as to how dark I'd let my story go. After all, I write romance. I write adventure. I write happy endings. There had to be some balance of darkness and light. I put a lot of thought into which details went into the story, and tried to focus on "interesting" over "gore".
Here are some things that struck me as interesting (bizarre) in the case of the Thames Torso Killer:
- In 1888, construction was underway for the New Scotland Yard, which stands very close to the Thames. The killer – who like Jack, was never identified – left the dismembered torso of a woman in the basement of the building. In the basement, people! Of the new police station! Audacious, don't you think? One interesting thing of note, is that the discovery of the body was made two days after a Ripper killing. And a couple of days later the Ripper sent a sniffy letter denying involvement in the Scotland Yard murder. Was the letter authentic? Or written by an imposter? I don't know. Still, very interesting.
- Here's a map of London and the Thames that I've got in my office.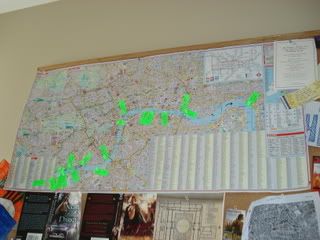 The events of SO STILL THE NIGHT take place alongside the murder and investigation of a young prostitute who was eventually identified as Elizabeth Jackson. I say eventually identified, because at first they didn't know who she was. See all the green tags? That's where Elizabeth Jackson was discovered. The discoveries were spread all up and down the river, over a span of distance, locations and days that indicated, at least to me, that the killer was purposefully spreading out the discoveries and likely enjoying his (or her?) observation of the authorities as they ran all over the city, trying to keep up with him.
One really bizarre fact: The killer must have had a sense of humor. No, this isn't "funny" but …
One of Ms. Jackson's body parts was discovered behind the tall ornamental railings of a riverside garden which was part of the private estate of Sir Percy Shelley. Most of you probably know who Sir Percy's mother was: Mary Shelley. The author of Frankenstein, a story of a man-monster crafted from stolen body parts.
Those are just a few bits of "interesting" or "bizarre" research I've come across. It's true what they say — fact is stranger than fiction!