by KimLenox on March 20th, 2009
I've always been interested in the origins of superstitions in a historical sense, but don't believe in many myself.
Like Sharon, I have a very healthy respect for nature. As humans, I think we've really managed to mess things up, and I just don't understand why some people just don't care. There's not a lot that will get me "hot" but — a kid ripping the branch of a tree on the playground, or the guy tossing his fast food bag out the window, or the woman who throws her cigarrette butt into the ocean really get me steamed. Somehow, deep inside, I believe if we don't take care of nature, she's not going to take care of us.
I get a very foreboding chill down my spine when I hear about things like the bee colonies collapsing or mass whale beachings.
And so along those lines, I guess one of my only superstitions might be that I get a bit anxious when watching apocolyptic disaster movies involving nature gone awry or horrible plagues or asteroids slamming into earth.
Remember not so long ago, when the only "terrorists" we knew about were those crazy long haired guys with guns on the Arnold Schwarzenegger movies? They weren't really scary, because they were just movie actors with fake guns, setting off carefully choreographed explosions. Things are very different now, aren't they?
Yes, on lazy Saturday afternoons, I do sometimes get sucked into a disaster movie and enjoy it, but some part of me always whispers, "No, that is NOT cool even if it is special effects … what if?"
I have a secret fear of fiction turning into reality, of those movies being a self-fulfilling prophecy.
"The Forbidden Zone was once a paradise. Your breed made a desert of it, ages ago." – Dr. Zaius (Planet of the Apes)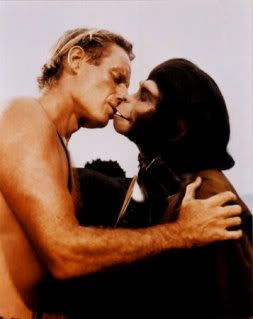 Snort! It's against my nature to end on TOO down of a note! Let's discuss!