by KimLenox on July 26th, 2009
The first series I remember reading (not including Nancy Drew, etc.) were the Betsy & Tacy books by Maud Hart Lovelace.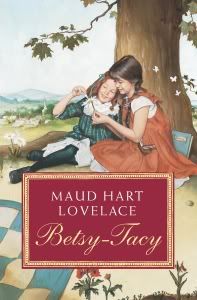 The copies I checked out of our Oklahoma school library were original editions, published in the 40s. I wonder what happened to those books — now they are highly sought after (expensive!) collectors items. They run along the same lines as the Little House on the Prairie books in that they follow the lives of Betsy & Tacy as they grow from young girls into married women. After reading those books I always wanted a pompadour hairstyle (but so far haven't ever had one).
But other than that, like Jessa, I tend to shy away from most series, unless the books can be read as standalones.
I'm not a creature of habit in my reading preferences. I want each reading experience to be new and exciting and to take me to a different place and adventure. Like many of you, I read all over the board. Historical. Paranormal. Contemporary. Thriller. Biography. History.
I rarely "glom" an author. If I do discover a new fabulous author, I'll usually buy their books, and read them over time, spaced out by other books. That's why I love the regular pace of a publishing schedule. It gives me time to "break" with other books and come back to that new favorite author with a fresh and open mind.
I also think perhaps one of my difficulties in jumping into a truly interlocked series, is yes, the committment required, but also my fear that the story will go in a direction I don't want to see. I think that comes from a traumatic series read (haha!) a few years back, where I adored the first book, and then read, horrified through the next two installments as everything I loved about the first book was destroyed. No, I won't name names because even though I did not like the development of the series, I still completely respect the writer and that writer's right to make decisions as they see fit. It is their vision! But still, yes, SOB! Traumatic. I kept the first book, and have even re-read it a number of times, blocking the other two from my memory.
I've really enjoyed reading everyone's responses about the series discussion this week, so keep them coming! If you've got any great series to recommend, I'd love to hear them. It's summertime, and maybe the perfect time to — commit!