by KimLenox on August 29th, 2009
I love that Beach Boys song…
I'm funny about where I write. I don't know what this means (about me) but I'm very nomadic. It depends on the day and my mood as to where I like to be creative with words.
I have an office with a desk and a view. I might sit there and write when I'm doing a lot of research and need all my books and notes around me.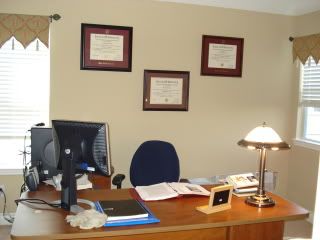 Or I might sit in my writing chair.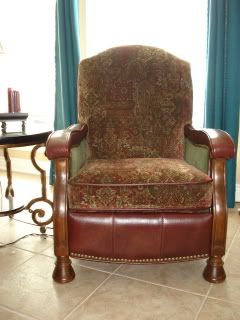 Or I may sit on the bed, which I really like to do, but I always end up falling asleep after about 45 minutes. For some reason, on my latest deadline I wanted to sit in my son's leather type pappasan chair. It's like half reclining in a chair-bucket. But the chair had to be in a corner in my bedroom, under a reading lamp. Why? I don't know. It just had to be there, or I couldn't think. When I'm on a deadline I turn into the Princess and the Pea. Everything bothers me. The light hits my computer screen wrong. The light pierces my eye like a needle. It's too cold. It's too hot.
I also write in my car. Even before I went back to work full time and started spending lunch hours writing in my car, I would drive to a parking lot and write. My crit partner will text me and ask if I'm in my car office. The car office only works when the temperature isn't 100 degrees though, so it's a late fall and winter type option.
I've also got my favorite writing places outside of the house, and a lot of times will meet other authors just to park in comfy coffee house chairs and co-exist as we type away.
So I guess all in all my "room" is in my head, and I just relocate wherever my compulsions lead me. My new Acer netbook lets me do that. I love that little guy.
I've enjoyed this week! I love to see where other authors work, and what their process is. What about you, reader? Do you enjoy hearing about that kind of thing, and having a glimpse into a writer's life?