by KimLenox on September 27th, 2009
Status: Cleaning up from three days of out-of-state company
Mood: In love with Sundays
I have loved looking at everyone's guilty pleasures this week. I think we writers are truly birds of a feather. And I'm with Sharon — I love love love hotel writing. Don't do it too often due to the expense, but yes! Hotel solitude somehow unlocks Happy Writer Brain.
Life is busy, busy, busy. I didn't set out to make myself so busy, I just am! There's so much I want/need to do every day, and only about 15 hours to get it all in. And the cursed day job knocks out a good portion of MY time.
So I have to say my guilty pleasure, above all, is being able to "veg". To be still, have free time and not be thinking about something.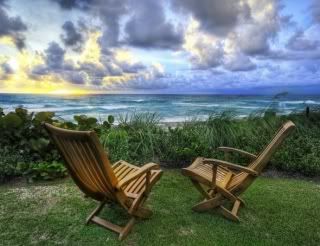 Veg time rarely ever happens, but it's a big thrill for me to be able to lay on the sofa with my cat and watch the History Channel or an old movie I never got to see at the theater. I also like to go down to our pier and throw bread out to the fish, or lay on the bench and just look up at the clouds moving overhead.
I know! It's not very exciting, but it's exciting to me!
What about you? Look forward to relaxing, or do you have more down time than you know what to do with?
Also, all of us at Silk & Shadows hope you'll come visit with us real time at Coffeetime Romance on Tuesday night starting at 6:00 pm Pacific time, 9:00 pm eastern. We'll be giving away prizes!