by KimLenox on September 19th, 2009
STATUS: Cleaning office, before heading off to watch Texas A & M Aggies beat Utah State!! Whoop!
Food! It's one of my favorite subjects. Whenever I'm on deadline, I will try to just throw the guilty conscience out the window. As writers, we have enough guilt! "That scene didn't turn out as well as I'd have liked!" and "I really shouldn't have thrown that still-frozen bag of fishsticks at my family before I locked myself in the office to write …" So, guilty calorie conscience be gone! Still, I tend to plow through a pile of contradictions — some fuel very healthy, the rest total junk.
When my family leaves me for a writing weekend, I'll break and make some sort of pasta in the skillet. It always starts out with olive oil and sizzling, popping garlic — and then I'll throw in pasta and whatever else.
I also love a great margherita pizza with olive oil, fresh basil, tomatoes and cheese (and yes, I can eat the whole thing myself! Eeek!). Chips and Pace salsa are also a standard.
But then I also have a pantry stash! Here's a pic of my last deadline pile: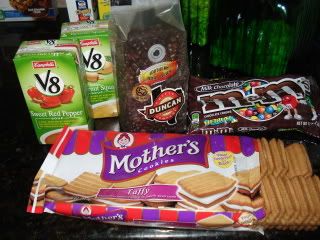 See my V8 soup? I love those, and feel like they give me some brain stamina. As far as "healthy" goes, I also love the Odwalla juices, especially the green superfood one. Every writer needs some java. That's my bag of Duncan coffee beans in Southern Pecan flavor. Yum! And here's my reward when I'm closing in on "THE END" … or either moping that the words aren't coming out the way I'd like …
Java Chip, how I love thee! I'm also a big fan of the Pumpkin Spice Latte from Starbucks, which has about 8,000 calories, so I only have one about every two weeks.
One thing I never have when I need to write, is alcohol. I like to joke that I go all "Edgar Allen Poe" during a deadline, which I do…I get ridiculously oversensitive, intense and emotional. ?? Why? I don't know! It's silly to even admit. But booze (or … um, opium in Poe's case)? How did he (and Hemingway, et al) ever get anything written? I'd just want to go to sleep. Yawn! No words!
So yes, lots of food, snacks and drinks make up my deadline and writing stash! If I had to say I was a "foodie" a "drinkie" or a "snackie" I think I'd go with a "drinkie" because I've always got some sort of beverage in front of me, whether it's any of the above referenced or green tea or diet cherry Dr. Pepper. What are you, reader? Are you a foodie, a drinkie or a snackie?