by KimLenox on October 18th, 2009
Status: Writing
Mood: Happy
"Hell is a city much like London - A populous and a smoky city."
Percy Bysshe Shelley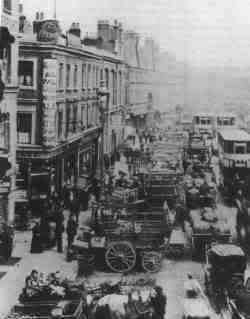 My books are set in Victorian London during the years 1888 and 1889. I don't really feel like I chose the setting. The setting chose me. Unlike choosing the location of the Olympics, there just weren't any other locations in the running. One reason is because early on I determined that the villain in my first book would be Jack the Ripper. But there were other reasons.
One of the themes you'll hear from me over and over again in my writing is that "light shines most brightly in the dark". There was so much poverty, despair and darkness in the crowded, dangerous Whitechapel (and other) district(s), while across town there was light, opulence and splendor in Mayfair and Belgravia. I wanted to play upon those two very different realities, and through my plot, have them bleed together and show that "light" and the opportunity for love and happiness comes from within, wherever you are, and perhaps most brilliantly during the most difficult times in life.
Okay, but besides all that deep stuff … there are just so many COOL PLACES in and around London, like Highgate Cemetery.
If you won the LOTTO (whoop!) where's the first place you'd go?