by KimLenox on December 19th, 2008
Where do my ideas come from? I really don't know. Am I allowed to answer that way?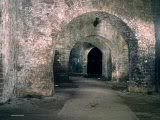 I get idea "glimmers". (Do you see the glimmer at the end of that tunnel?) Readers have asked where I got the idea for the Shadow Guard, and NIGHT FALLS DARKLY. It started with glimmers. And let me tell you … glimmers don't make a whole lot of sense starting off, at least not in my mind. They are a lot like fireflies. "Look, it's over there!"  "Oh, wait. No it's not. It's over THERE!"
I saw the film, MEET JOE BLACK, years ago and I've always thought it was a really neat concept, a paranormal being living amongst us, doing his necessary work, and trying to remain separate and apart – but one person, one woman, steals his heart. I couldn't help but ask: why her, after all those centuries? It's an impossible love story that works out in the end. I love impossible love stories that work out in the end, so all my romances will be YES, impossible. At first.
Eventually I started to pair up that concept with the Victorian era – my favorite. Victorians were quirky, morally confused and obsessed with all things sensational. What fun! 
But there was also a very dark side to their society. A tragic side. In the past, I'd read Victorian accounts of "educated" and "upstanding" citizens taking secret tours along the dark streets of London, and interacting with the lower classes, and viewing (for the sake of knowledge!) all the bizarre, exotic and forbidden entertainments and curiosities that the other side of town had to offer. You know, like they were at a zoo, observing the animals. (Glimmer!) In this society, there was so much potential for misery, and as I've said before — light always glows the brightest in the dark. (Glimmer!)
And so I decided to combine those glimmers with a bit of the fantastical – LEAGUE OF EXTRAORDINARY GENTLEMEN, DRACULA and mildly steam-punkish elements. See, lots of glimmers. Lots of influences. They all just come together like a big soggy pile of clay, and I start shaping and rearranging things until a story emerges. Me, a linear thinker? No, no, no! I wish. I'm busy working on the proposal for my third Shadow Guard book right now, and I'm just blinded by glimmers (and soggy clay). But I love it! 
On a more concrete note: One thing that's always a standard for me is that my books will detail my characters' "BIGGEST MOMENT".  The moment they have to face their biggest danger, challenge or fear. There's emotion in all that drama. Love, passion, adventure, pain and even grief add richness and dimension to a person's life. Do any of you ever get the feeling, while watching TV, or moving about in whatever professional or social circle, that some people never scratch the surface of their personal depth and life's meaning and emotion? I do. And so I'm determined when I sit down to write a book, that my characters (and therefore, my readers) will see and feel and act on a large scale. I want rational, yes, but out of the box. Big picture. Global view. I really want everyone to see beyond their noses.
Anyhow, that's how I got the idea for NIGHT FALLS DARKLY, and that's how most of my story ideas seem to come about as well. I'm thinking I probably just scared some of you off from reading any of my books. <<bites lip>> I hope not.
Who's reading new books over the holiday!?! Make sure you post a comment, so you'll be entered in our contest!