by KimLenox on February 27th, 2009
Gosh, you other Silk & Shadows Writers, I am such a literal interpreter compared you yooz guys.
Favorite paranormal I didn't write.
We've all been reading "paranormals" since childhood. In many ways, all of the fairy tales and magical stories we've enjoyed were, indeed, paranormals. As a young adult, I loved TUCK EVERLASTING, (about immortality) and everything Edgar Allan Poe.
In high school, I inhaled Anne Rice's INTERVIEW WITH A VAMPIRE. My favorite Rice book was THE WITCHING HOUR, about the Mayfair witches and Lasher. Loved it! I just … um, did not "love" all the books that came afterward … I guess even then my writer's creativity was kicking in because I would have gone in a completely different direction with that story.
But when I think of my favorite paranormal, it would have to be Stephen King's PET SEMATARY.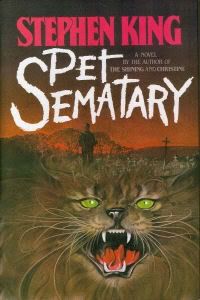 Don't think of the movie, because that was a poor adaptation of the actual novel. I think PET CEMETERY stands out in my mind as my favorite, because the story was so enormous in context compared to anything else I'd ever read.
It's a common fantasy for us to wish to bring a loved one back from the dead, and Mr. King started out with that kernal of a wish, and a legend about a mysterious local pet cemetery.
But then he went way out of the box and brought in Biblical references (Lazarus), and posed historical questions (Roanoke, the "Lost Colony")…
And managed to blend "heartbreaking" and "poignant" with absolute horror.
King put images and questions in my mind that I'd never, ever forget, and in the end, forced me to do some self-examination about what I believe.
What about you — do you have a favorite paranormal that made you think outside the box?