by KimLenox on October 31st, 2009
Status: Taking a break from revisions on DARKER THAN NIGHT to get ready for friends and TRICK OR TREAT!
I love Halloween. Wait, did I tell you? I LOVE HALLOWEEN! We've got friends coming over. The kids are so excited. No, I don't have a costume. I'll probably just wear my black witch
hat with the sparkly red cobwebs on it.
Here's the path leading up to my front door …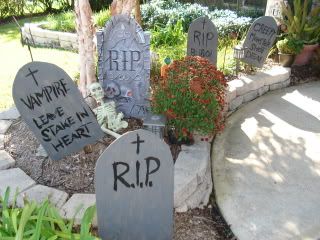 And my pumpkin chiminea.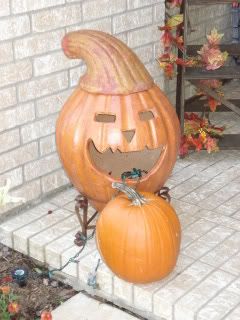 And my Dia De Los Muertos Candy Bucket (named Fred!)
I love everything about Halloween, except maybe the fact of how over-marketed its become. I don't know how old YOU are, reader, but when I was little, we went down to the store and there were boxes of costumes. You picked out the one you liked, and you pretty much wore it until you couldn't fit into the plastic suit anymore. Lol! Yes, it makes me laugh, but that memory makes me happy. I was a yellow cat for a number of years, and then a pirate — which was a costume my mom made for me. The candy was awesome, because like Annette's, my mom didn't buy us a bunch of candy. So it was a really special treat to get a whole orange plastic pumpkin bucket full.
Oh, but enough of the "back in my day" talk, else you'll think I'm some old crone (maybe with green skin, and a wart on my nose) pecking out words on my keyboard.
What are your plans for the night? Going to watch any spooky movies?
Happy Halloween to YOU!