by KimLenox on March 21st, 2010
I've never really lived in a place where we have a real winter. I can see why people who live in the Great White North or even the Sort-of Great White North would go crazy over the first signs of spring. Here in the South, we've seen some snow this winter, and it's actually very chilly and windy at my place today, but beautiful and sunny. Flowers are starting to pop! But we do enjoy balmier weather all year round.
I don't usually diet when spring comes around, but I do get myself back on the health wagon. One reason is because I know the sure terror of bathing suit weather is just around the corner. By May we'll be visiting the beach and yes, I'll be blighting eyeballs, young and old. It's a horrible thought, but that's why I'm starting now!
Here is my frienemy, Treadmill.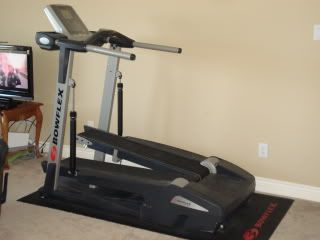 If you look closely, you can see the fine layer of dust all over him. Time to get my walking groove on. I do feel more clear of mind and creative when I exercise regularly and eat more healthfully. One cannot live on chips and salsa alone. Or that's what I tell myself.
Spring is also time to get out of the house and the normal routine and do something new! I just returned last night from New Orleans. I have been there before, but not since I was a teenager.
Thank you New Orleans! I had a fantastic time. Great food, great music, great things to see. I loved riding the street car all over and seeing the city and houses of the Garden District. I've been trying to figure out how I can swing buying Anne Rice's old house, which is currently on the market. I'm also determined to make some gumbo. Not just gumbo, but fantastic, awe-inspiring gumbo. Give me time. I will conquer and cook it as well as a local.
Do you plan to go on any trips soon, readers, or will you be doing all of your upcoming travel by reading books?