by KimLenox on April 4th, 2010
I hope everyone had a wonderful Easter! We had an early visit from the Easter Bunny, and then attended Easter services. The weekend was spent with family, and I always look forward to that.
And just a few days ago … April Fools Day! Did anyone have any jokes played on them? I lucked out - no foolin' around this year, so no stories to tell.
Speaking of April Fools, in the days after I sold the first book in the series, NIGHT FALLS DARKLY, I kept imagining that I'd get a call from my editor saying, "Ooops! You know, when I said I wanted to buy your book, I actually meant a DIFFERENT manuscript from a DIFFERENT author. Somehow I got them mixed up! So sorry!"
(Anyone else do that?)
So it's always a joy to hold the REAL FINISHED PRODUCT in my hands!
This week the third book in my SHADOW GUARD series, DARKER THAN NIGHT, releases!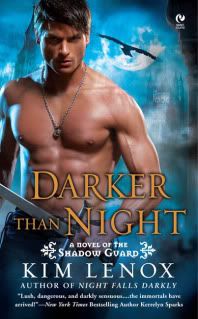 Here's the back cover blurb:
SLEEPING BEAUTY
Countess Selene is the Shadow Guard's only female member. It has taken her centuries to prove herself worthy of the Order. She sacrificed herself to save the people of London, and she's now under a sleeping spell in the Tower of London, guarded by Raven warriors.
DANGEROUS BEAUTY
When Selene awakens on a dark street with a blade in her hand and a dead prostitute at her feet, everything changes. She loses her power and authority, and is held under surveillance by Lord Avenage, England's Ravenmaster, a reclusive and seductive immortal warrior whose past is shrouded in secrets. But what they don't realize is that evil is watching. Cut off from the protective ranks of their fellow Shadow Guards, Selene and Avenage find themselves face-to-face with an ancient enemy, with only each other to trust …
And here's the PROLOGUE:
He awoke to darkness, his limbs twisted in linen sheets, his hands seizing at nothing. Perspiration bathed his skin.
Her taste lingered on his tongue. The scent of lotus flowers clouded his nostrils, a seductive tease. He ached—oh, God, how he ached, the intensity of his unsatisfied need leaving him almost sickened.
Groaning, he rolled to his side and curled inward upon himself, alone in his room save for the blinking raven perched on a brass stand beside the window. A gust of wind rattled the shutters and Big Ben tolled three o'clock. Male voices, drunken sailors from St. Katharine's Docks, volleyed curses at one another. Bells rang softly on barges which were anchored on the nearby Thames.
The bird shifted and rustled its wings.
Torn between agony and shame, he threw off the linens and abandoned his bed. Wrenching the door open he took to the dark hallway, his hands skimming over ancient stone. The stairs. One flight. Two. Fevered blood pulsed inside his head. Closing his eyes, he drew upon his inner power to change, to become a shadow. A different sort of heat consumed him, one that seared his bone, muscle and flesh from the center of his solar plexus, out. Unnoticed he slipped past the two brothers who had been assigned to night duty.
A large brass cage hung from above, higher even than the large circular candelabrum that provided the room with a comfortable light. The cage contained six of the Tower's seven resident ravens—all but his, which remained in his room below.
Tres, silent and serious, sat at a long desk, his pale head bent in concentration, transcribing the day's surveillances and communications into a leather bound tome. His younger brother, Shrew, mumbled the words to a tune and crouched beside the fire. With a curl of his muscles, he wrenched a length of chain and from inside the flames, out clattered a narrow brass cage onto the stone floor. Inside would be a stack of sealed envelopes, unmarred by the incinerating heat—the night's communiqués from the Primordial Council and others within the immortals' protected Inner Realm, the pure-aired paradise that existed as an alternate plane, over the same landed space as the mortal world.
As part of their nightly duties, the two Raven warriors also guarded over …
Wood-plank doors, bound by studded metal bands hung open on massive hinges, granting him entry to the shadowy chamber.
Over her.
Wind rushed through the shutters, to awaken his skin and incite the purple curtains into a rippling dance. A gilt statue of Hecate hung over the bed, carved to appear as if the goddess was bursting through the wall. Beautiful, bare breasted and arms outspread, in each hand she wielded a lantern in the shape of a blazing torch.
But he was a Shadow Guard, gifted with the ability to see through the most fathomless dark. He didn't need her light to see the woman below.
This night, as in each night past, her dark hair spilled in a glossy river across the pale linens. Raven's wing lashes lay against her cheekbones, concealing the dark eyes that tormented his dreams. Her skin, golden rather than alabaster, shone with the inner light of vivacity and health. With each breath, her breasts rose and fell, the intricate lace of her undergarments faintly visible beneath the fine lawn gown she wore. A garnet the size of an Egyptian scarab glimmered on her finger. A narrow gold band in the shape of a serpent encircled her wrist.
Careful not to touch her skin, not a single strand of her hair, he pressed his fists to the mattress at either side of her face. He leaned down until his nose was aligned just beside hers so that their lips nearly touched.
A moment later, and he escaped the White Tower through the window and descended the cool surface of Caen stone. Once on Postern Road he traveled quickly—in a rage of speed and power. He skimmed and turned against brick, wood and cobblestone, leaving behind the Tower of London , the wharfside warehouses and the tenements. Everything—the dead fish stench of Ratcliffe Highway and the granite arches of the Bridge of Sighs —dissolved into a blur as he hurtled past.
At last there were the green parks, high stone walls and rows of palatial white town houses. The shadowy figures of well dressed gentlemen hovered on horseback and doorstep as they returned home, discreetly and quietly, from private clubs, gambling houses or from within the arms of their mistresses.
He found the numbers imprinted onto a bronze plaque and hissed under the black lacquered door, and past the slack-faced doorman asleep on a bench. Cool marble. Blue silk. Rich gilt. He mounted the stairs and entered her room by way of the crack beneath the door. The power of his arrival snuffed the candle in the lamp and sent the crystal teardrops of the unlit chandelier to jangling. He materialized at the foot of her bed, his chest heaving, still barefoot and wearing only his loose linen trousers.
She pushed up, white satin hugging every curve.
"I knew you'd come," she whispered.
She beckoned, arms outstretched. He didn't look at her face—only at her hair, which was the precise shade of blonde to make him remember.
To make him forget.
If you'd like to read more about the SHADOW GUARDS, swing by my website for a visit. I've got excerpts, and even a contest posted on my blog.
Have a great week all!